Keerti Gurushanthaiah, M.D.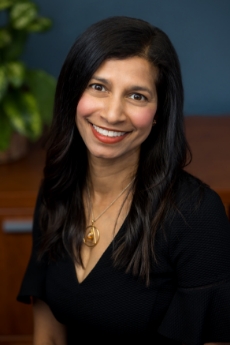 Dr. Gurushanthaiah graduated magna cum laude from the University of California, Irvine. She received her medical degree from UCSD and completed her postgraduate training at the New York Hospital: Cornell University Medical Center in Manhattan. During her residency, she was selected to receive the Distinguished Housestaff Award for Obstetrics and Gynecology. Prior to joining IGO Medical Group in 2000, Dr. Gurushanthiah was a member of the full time faculty at the UCLA School of Medicine. In addition to caring for patients at the UCLA Medical Center, Dr. Gurushanthaiah participated in the education of both residents and medical students.
Educational Background
Undergraduate: University of California at Irvine, Irvine, California
Medical School: University of California at San Diego, School of Medicine, La Jolla, California
Residency: The New York Hospital: Cornell University Medical Center, New York, NY
Board Certification
Diplomat, American Board of Obstetrics and Gynecology
Professional Affiliations and Societies
Fellow, American Congress of Obstetricians and Gynecologists
Member, San Diego County Medical Society
Professional Interests
Dr. Gurushanthaiah's private practice specializes in comprehensive healthcare for women including general gynecology, menopause and gynecologic surgery.